New York, NY— January 24, 2023 — This year, Marvel's annual Women's History Month celebration will extend to its comic titles set in a galaxy, far, far away! Visionary comic artist Peach Momoko has produced eleven gorgeous STAR WARS WOMEN'S HISTORY MONTH COVERS that will grace all of Marvel's Star Wars series in March. In her signature style, Momoko brings to life a variety of Star Wars characters who have inspired fans for generations across films, comics, and more!
Here are the characters that will be spotlighted:
· Amilyn Holdo, Resistance leader known for her brave sacrifice in Star Wars: The Last Jedi
· Barash, gifted Jedi gifted Jedi whose name is forever linked the "Barash Vow" and whose story is currently being told in Star Wars: The High Republic – The Blade
· Chanath Cha, deadly bounty hunter who's currently targeting Darth Vader in Star Wars: Hidden Empire
· Domina Tagge, proud head of the Tagge family who recently sought revenge against Doctor Aphra in the pages of her ongoing solo series
· Gheyr, a young Jedi padawan debuting in Star Wars: Yoda #4
· Grammy Starros, matriarch of the Starros clan who will make her first appearance in this month's Star Wars: Sana Starros #1
· Khel Tanna, scoundrel employed by Jabba the Hutt currently teaming up with Han Solo in the Star Wars: Han Solo & Chewbacca series
· Leia, the groundbreaking icon is depicted in the Boussh disguise she used to infiltrate Jabba's Palace in Star Wars: Return of the Jedi
· Matty, a Jedi Padawan helping Vildar Mac in the pages of Star Wars: The High Republic
· Nakano Lash, a Nautolan bounty hunter who once mentored Beilert Valance and recently resurfaced in the pages of Star Wars: Bounty Hunters
· Sabé, loyal handmaiden of Padmé Amidala and currently in an uneasy alliance with Darth Vader in the pages of his ongoing solo series
"It's an honor to be working on so many covers for the Star Wars world," Momoko said. "I love all the characters I got to draw. They each have their own uniqueness and strength that I admire."
See below for a full list of STAR WARS WOMEN'S HISTORY MONTH VARIANT COVERS. Check out the first four now and stay tuned to StarWars.com next week for more to be revealed! For more information, visit Marvel.com.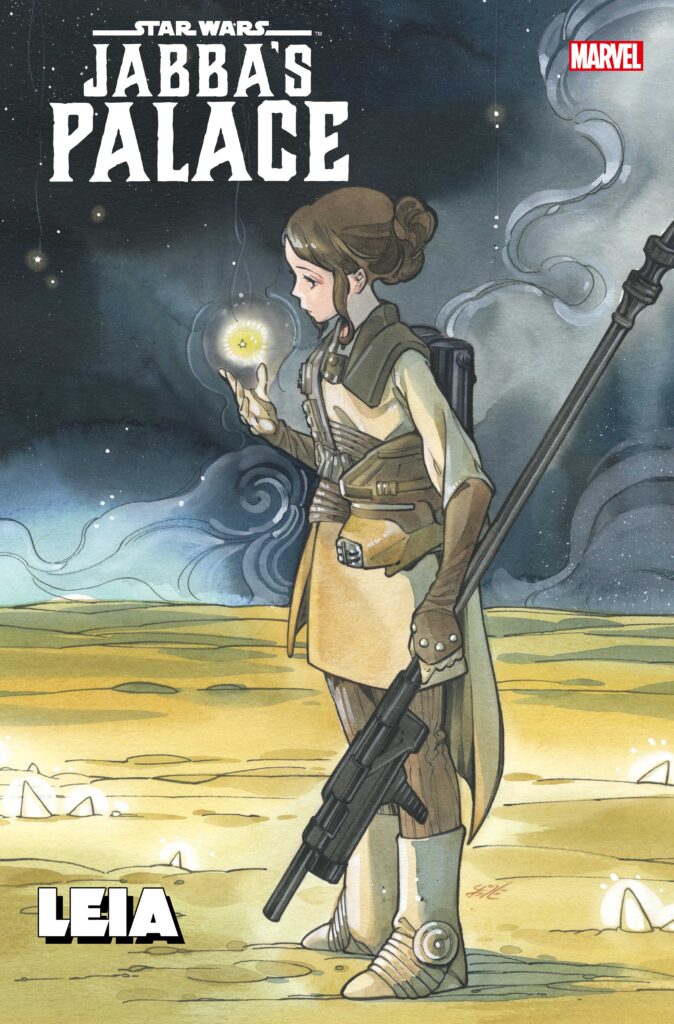 On Sale 3/1
STAR WARS: HIDDEN EMPIRE #4 WOMEN'S HISTORY MONTH VARIANT COVER by PEACH MOMOKO – 75960620457100481
STAR WARS: HAN SOLO & CHEWBACCA #10 WOMEN'S HISTORY MONTH VARIANT COVER by PEACH MOMOKO – 75960620225601041
STAR WARS #32 WOMEN'S HISTORY MONTH VARIANT COVER by PEACH MOMOKO – 75960609600803251
On Sale 3/8
STAR WARS: THE HIGH REPUBLIC #6 WOMEN'S HISTORY MONTH VARIANT COVER by PEACH MOMOKO – 75960620378900661
STAR WARS: SANA STARROS #2 WOMEN'S HISTORY MONTH VARIANT COVER by PEACH MOMOKO – 75960620227000231
STAR WARS: BOUNTY HUNTERS #32 WOMEN'S HISTORY MONTH VARIANT COVER by PEACH MOMOKO – 75960609602203231
On Sale 3/15
STAR WARS: YODA #5 WOMEN'S HISTORY MONTH VARIANT COVER by PEACH MOMOKO – 75960620226300541
STAR WARS: DOCTOR APHRA #30 WOMEN'S HISTORY MONTH VARIANT COVER by PEACH MOMOKO – 75960609724103031
On Sale 3/22
STAR WARS: DARTH VADER #32 WOMEN'S HISTORY MONTH VARIANT COVER by PEACH MOMOKO – 75960609601503241
On Sale 3/29
STAR WARS: RETURN OF THE JEDI – JABBA'S PALACE #1 WOMEN'S HISTORY MONTH VARIANT COVER by PEACH MOMOKO – 75960620467000151
STAR WARS: THE HIGH REPUBLIC – THE BLADE #4 WOMEN'S HISTORY MONTH VARIANT COVER by PEACH MOMOKO – 75960620492200441