Marvel Artist's Edition Products will Spotlight the Legendary Creators Behind Many of Marvel's Most Iconic Storylines
SAN DIEGO, CA (March 20, 2023) – IDW and Marvel Entertainment are expanding their longtime collaboration with the development of over two dozen new releases in IDW's multi-award-winning Artist's Editions line.
"Marvel has been a vital collaborator in the success of Artist's Editions since the format debuted in 2010," says IDW publisher Nachie Marsham. "We're proud to be able to publish art from more of the industry's legendary creators, and to continue bringing Marvel's storied history to the page. We're honored to continue growing the library of Artist's Editions with new Marvel projects, all under the expert guidance of our award-winning director of special projects, Scott Dunbier."
IDW is proud to announce four new Marvel-focused products for Fall 2023: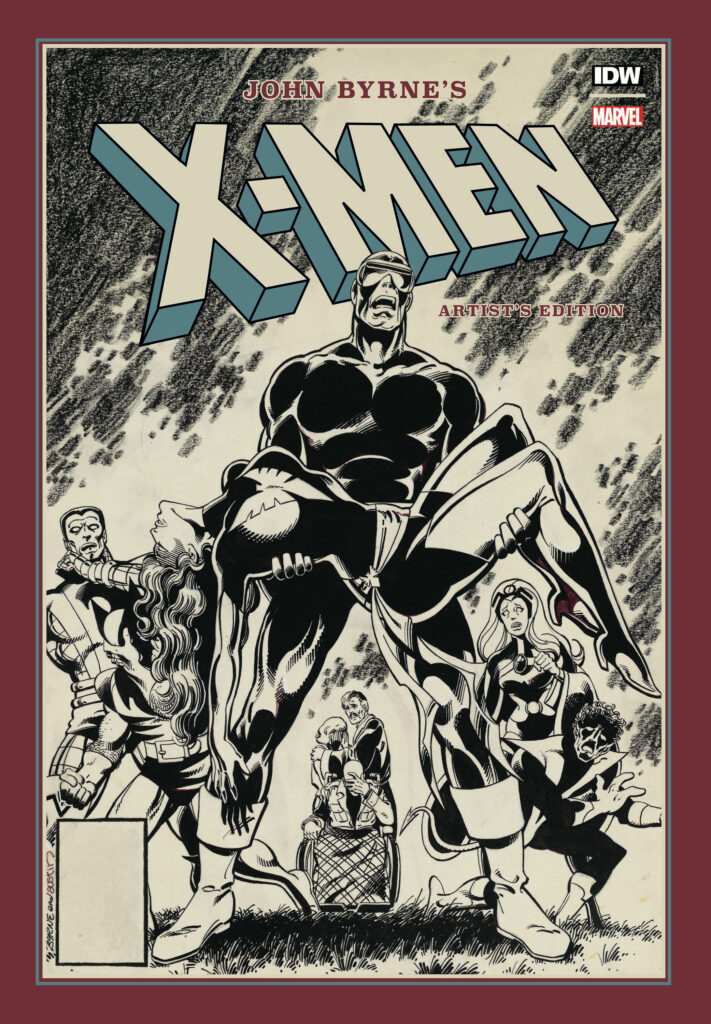 Walter Simonson's Fantastic Four Artist's Edition (9798887240350, scheduled for September) collects complete stories of mythic proportions from Fantastic Four #337–341 and #352–354, a celebrated run from Simonson on "the World's Greatest Comic Magazine."
Bill Sienkiewicz's Mutants and Moon Knights and Assassins Artisan Edition (9781684059683, scheduled for September) spotlights some of the finest covers, pinups, and pages from Sienkiewicz's Moon Knight, The New Mutants, and Elektra: Assassin projects.
John Romita's Amazing Spider-Man: The Daily Strips Artist's Edition (9798887240558, scheduled for October) showcases approximately 300 of the very earliest Amazing Spider-Man daily comic strips by the two creators most associated with the Web-Slinger: Stan "the Man" Lee and "Jaunty" John Romita.
John Byrne's X-Men Artist's Edition (9798887240435, scheduled for November), printed for the first time since 2018, collects many pages from seminal tales of Marvel's mutants, including two of the most influential comic storylines of all time: "The Dark Phoenix Saga" and "Days of Future Past."
These new Artist's Editions products are in addition to three Marvel-focused items already announced for 2023: Kevin Nowlan's Marvel Heroes Artist's Edition (9781684059720, scheduled for April), Michael Golden's Marvel Stories Artist's Edition (9781684059195, scheduled for July), and Frank Miller's Daredevil Artist's Edition (9798887240046, scheduled for August). Even more exciting Marvel Artist's Edition projects are expected to be announced for 2023 and beyond. 
"Marvel Comics' wonderful output of stories has been an extraordinary playground for me to create Artist's Editions in," says Dunbier. "Working with our friends at Marvel will allow us to continue doing books with old favorites like Walter Simonson and John Romita, and focus on a bunch of artists that are brand-new to the format. I think people will be as excited as I am as we roll out the incredible books we have planned in the years to come!"
Setting the industry standard for high-end archival collectibles, IDW's Artist's Editions provide comic lovers everywhere with the most authentic original comic art experience possible. Each oversized hardcover in the line collects pages from acclaimed comic book runs, with each page scanned in high resolution from the actual storyboard artwork of such legends as Todd McFarlane, Jim Lee, John Buscema, Dave Stevens, and many more. Enthusiasts are able to clearly see all the distinctive creative nuances that make original art unique. In a perfect representation of the work in its original form, each page is printed the same size as drawn, and the paper selected is as close as possible to the original art board.
As an extension of the Artist's Editions line, IDW also offers Artisan Editions, collecting the original artwork reproductions in a less expensive and more practically sized paperback format.
IDW Artist's Editions are available for pre-order everywhere books and comics are sold. For more details and pre-order options, visit Penguin Random House or visit www.comicshoplocator.com to find a store near you.