Check out the remaining INFINITY SAGA PHASE 3 covers, on sale starting in March!
New York, NY— February 3, 2023 — This year, Marvel Comics continues its popular line of INFINITY SAGA VARIANT COVERS! Highlighting each and every Marvel Cinematic Universe film, these covers see some of the industry's greatest artists honor Marvel Studios' incredible impact with stunning poster-style comic art. The next installment of covers will allow fans to revisit the incredible highs of the films that closed out the groundbreaking INFINITY SAGA. Revealed last month, the first three Infinity Saga Phase 3 Variant Covers will hit stands in February. And today, readers can check out the rest which will be featured on titles starting in March.
Peach Momoko puts a spin on Carol Danvers' triumphant moment from Marvel Studios' Captain Marvel. Aaron Kuder captures the high-octane fun of Marvel Studios' Guardians of the Galaxy Vol. 2. Mahmud Asrar recreates the explosive brawl between Thor and Hulk from Marvel Studios' Thor: Ragnarok. Steve McNiven depicts the dramatic confrontation between Captain America and Iron Man from Marvel Studios' Captain America: Civil War. Steve Skroce draws a stunning portrait of Stephen Strange's rise as the sorcerer supreme from Marvel Studios' Doctor Strange. And Ken Lashley introduces readers to the world and characters of Wakanda as seen in Marvel Studios' Black Panther.
Check them out below and collect them all at your local comic shop in the months ahead! For more information, visit Marvel.com.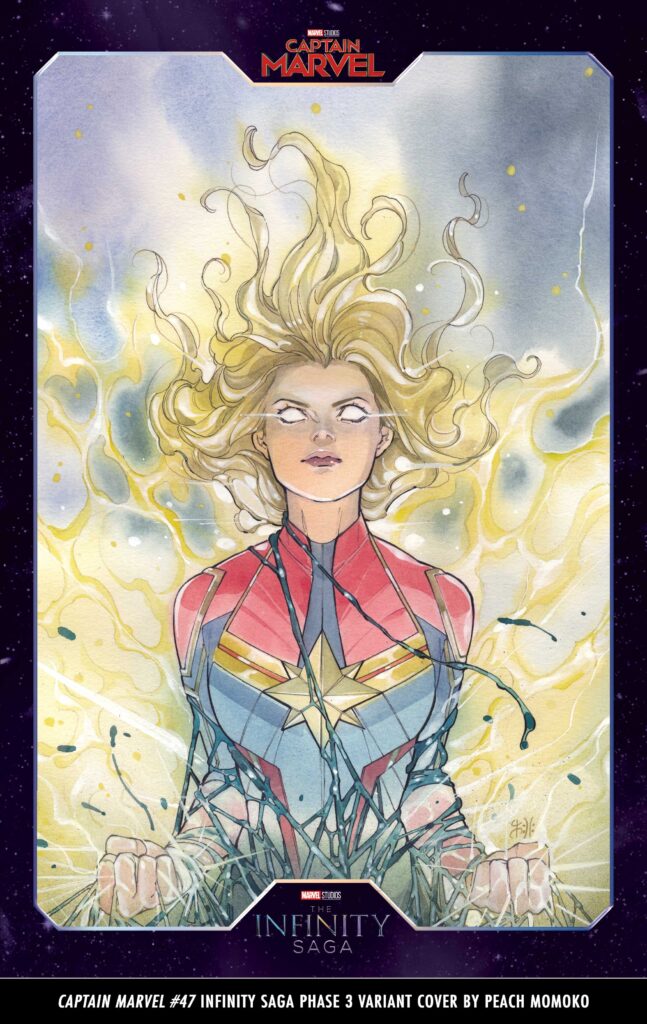 On Sale 3/15
BLACK PANTHER #15 INFINITY SAGA PHASE #3 VARIANT COVER BY KEN LASHLEY – 75960620042901531
CAPTAIN MARVEL #47 INFINITY SAGA PHASE 3 VARIANT COVER BY PEACH MOMOKO – 75960609268004741
On Sale 3/22
DOCTOR STRANGE #1 INFINITY SAGA PHASE 3 VARIANT COVER BY STEVE SKROCE – 75960620534900171

On Sale 3/29
THOR #32 INFINITY SAGA PHASE 3 VARIANT COVER BY MAHMUD ASRAR – 75960609539103221
On Sale 4/12
CAPTAIN AMERICA: COLD WAR ALPHA #1 INFINITY SAGA PHASE 3 VARIANT COVER BY STEVE MCNIVEN – 75960620603200161
GUARDIANS OF THE GALAXY #1 INFINITY SAGA PHASE 3 VARIANT COVER BY AARON KUDER – 75960620535600171