Solicitations: Action Lab Entertainment and Action Lab: Discover for September 2020
The following titles will be available for purchase in comic shops everywhere!
Enter the Maelstrom—The multiverse Maelstrom! A supernatural storm that crosses between dimensions, displacing beings and objects from alternate realities. Most fear the Maelstrom, but interdimensional explorers Miranda Sherbet and her shark-dog Noodles use the storm as a means of travel and adventure. But when Miranda finds herself disoriented and separated from Noodles, she runs back into the storm, fighting off violent aliens, harsh weather conditions, and the traumatic memories which set her down this path. Will Miranda find Noodles and continue their Adventures, or will they be alone in infinity?
 
24 pgs./T/FC        $3.99
DIAMOND ITEM CODE
JUL200968 – MIRANDA IN MAELSTROM #1
Join us for the magical adventures of Holly, the daughter of Santa Claus, and Frostina, a yeti princess as they explore the mystical wonders of the lands of Polaris! Holly and Frostina journey through the subterranean city of Undertown to investigate the trouble in Troggie town. There's an evil force scheming right below Snowville, and it threatens Christmas itself!
 
48 pgs./E/FC        $14.99
DIAMOND ITEM CODE
JUL200979 – NORTHSTARS HC VOL 01 WELCOME TO SNOWVILLE (SEP181358)
Princess Frostina cordially invites you to a royal yeti wedding! Join Santa, Mrs. Claus and their daughter Holly as they journey to the wintry kingdom of Yetisburg for the wedding of Frostina's Aunt Brrronica. It's sure to be a grand affair… As long as Holly and Frostina can find a lost wedding ring, get a cake, and decorate the chapel and make a bouquet, all while avoiding the mysterious chilly giantess, the Gryla!
 
48 pgs./E/FC        $9.99
DIAMOND ITEM CODE
JUL200958 – NORTHSTARS HC VOL 02 YETI WEDDING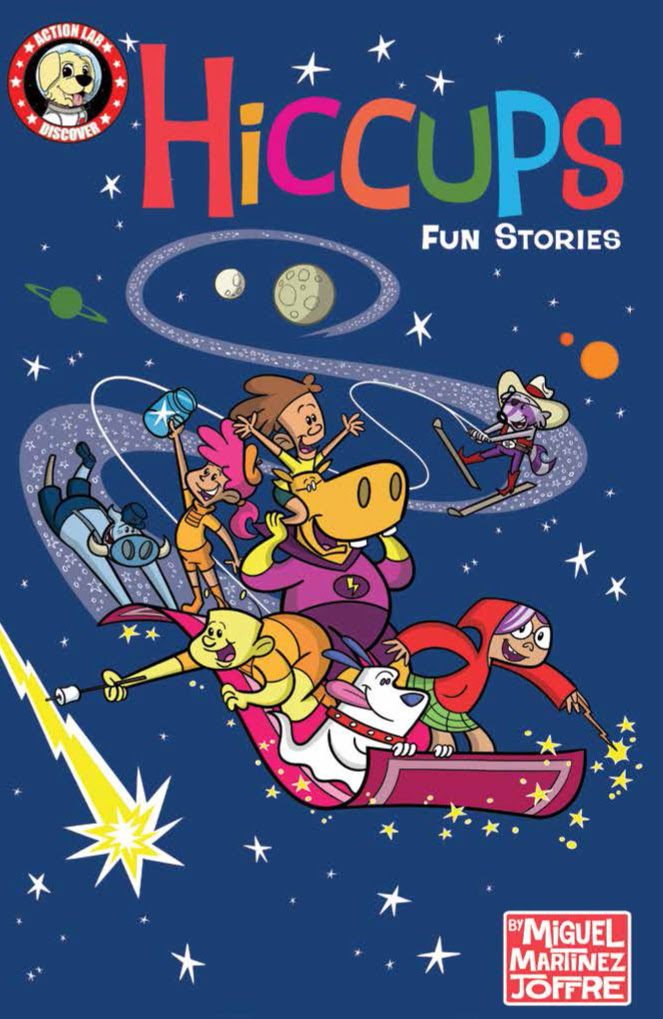 Hiccups Fun Stories is four hilarious adventures in one exciting comic book, making a collection as brisk and silly as a bout of hiccups. Readers of all ages will earn merit badges in space with Luna Destiny and the Moon Berets, solve ridiculous mysteries in the Old West with Sheriff Ratatan, rescue marvels of nature with Hip and Popo, and practice magic in middle school with Luz and Sado.
 
52 pgs./E/FC/        $9.99
Release date updated to November 25, 2020.
DIAMOND ITEM CODE
JUL200957 – HICCUPS FUN STORIES
Backlisted Books Featured in Previews
HALLOWEEN THEMED!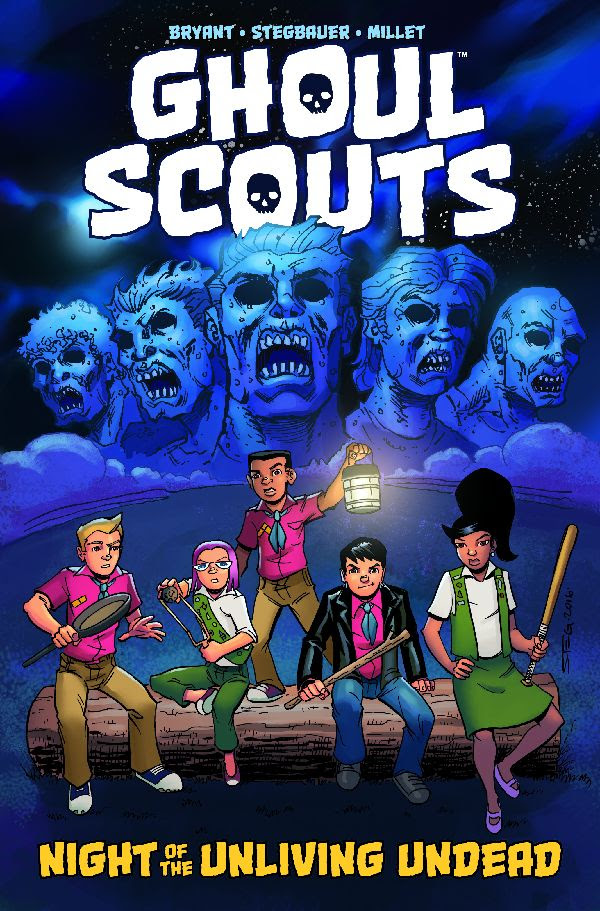 Something stranger than usual haunts Full Moon Hollow, paranormal capital of the world. Adults either can't see it, can't remember it, or go crazy from it. So when a zombie outbreak threatens the town, only a group of misfit scouts can save it!
 
Collects the fan-favorite mini series.
 
Be prepared. Be very prepared.
 
128 pgs./E/FC        $14.99
DIAMOND ITEM CODE
JUL200978 – GHOUL SCOUTS TP NIGHT OF THE UNLIVING UNDEAD (AUG161059)
An adaptation of the Artful novel by the award-winning writer and comic book legend Peter David, this Olliver Twist spin-off story stars the Artful Dodger as our reluctant hero.
 
Alongside Van Helsing's son Bram, Dodger must take on hordes of vampires to save a princess from a nefarious plot.
 
Collects Artful #1-6.
 
192 pgs./E/FC        $14.99
DIAMOND ITEM CODE
JUL200986 – PETER DAVID ARTFUL TP VOL 01 (APR171190)
On a cool evening on the swamp,a figure appears dancing across the water. A human figure, but far from a human form.
 
A ghost, a young girl spirit that seems to have lost it's way. A good Samaritan owl decides to help against the wishes of his animal brethren.
 
What mysteries does the girl hold the secret to, and what will happen when her and the owl unlock them together? Will they find out what happened to her? Will she find her way to where she needs to be? What will happen to the animals in the surrounding swamp and forest?
 
An adventure with the most unlikely of pairs, The ghost, the owl.
 
48 pgs./E/FC       $9.99
DIAMOND ITEM CODE
JUL200987 – THE GHOST THE OWL HC (FEB180968)