GIT Corp. Debuts the Valiant Classic Digital Comic Book Collection
For the first time, gain access to nearly 700 issues of Valiant comics published from 1992-2000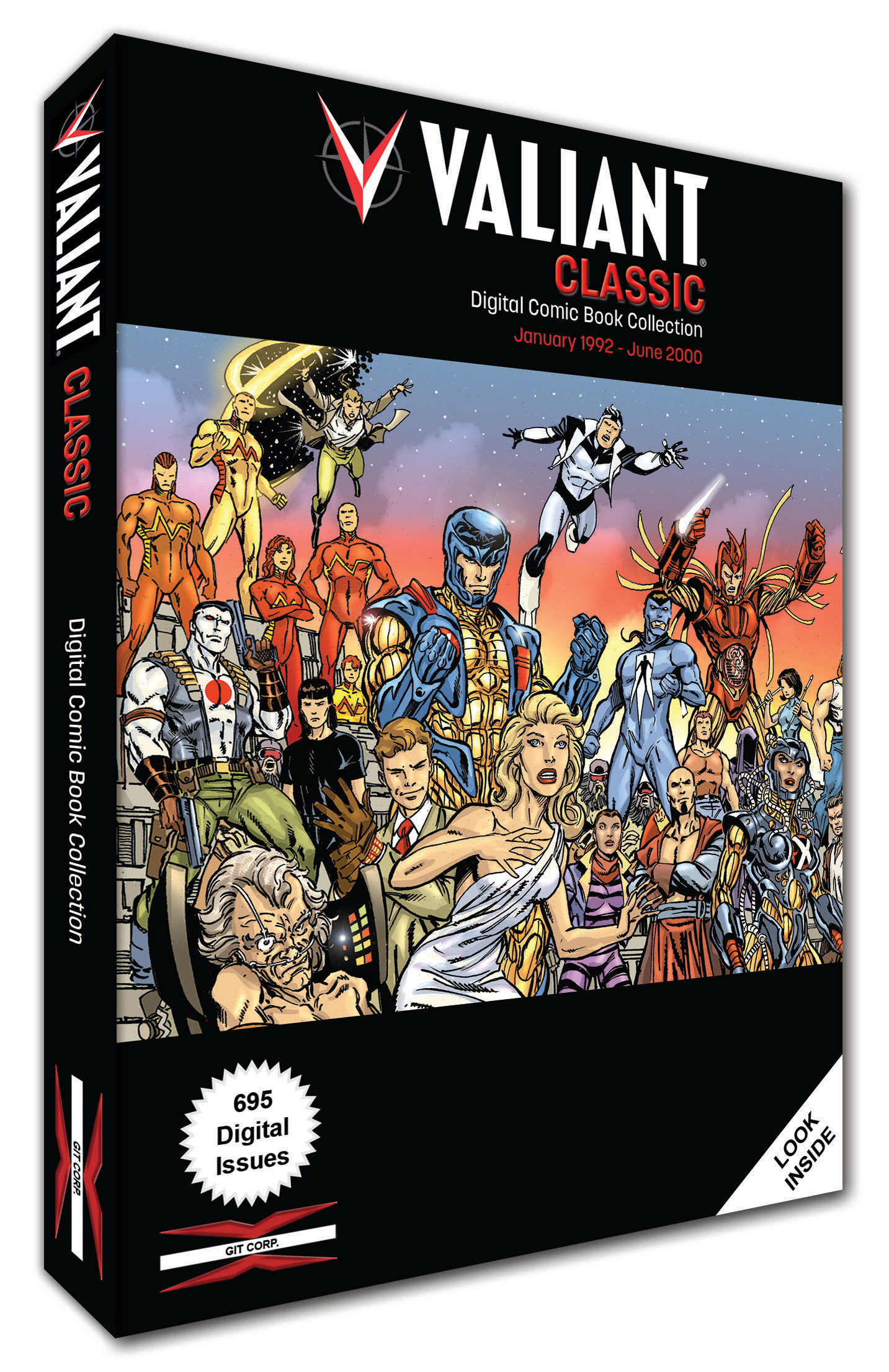 neurontin 800mg New York, NY (July 10, 2019) –  File not found. Valiant Entertainment is excited to announce the  Valiant Classic Digital Comic Book Collection by GIT Corp., a follow-up to GIT Corp.'s Valiant: The Complete Digital Comic Book Collection released earlier this year. 

This massive library features almost 700 digital comics published by Valiant between January 1992 and June 2000, all for just $75!"GIT Corp.'s first Valiant release is an impressive collection of our new era of comics, but this collects many of the comics from the classic era of Valiant," said Russ Brown, Valiant's President of Consumer Products, Promotions & Ad Sales. "Now, Valiant fans can have unprecedented access to a vast assemblage of stories by the likes of Bob Layton, Kevin VanHook, Barry Windsor-Smith, and many more!"
The Valiant Classic Digital Comic Book Collection features 695 digital issues on one USB flash drive that comes with three licenses that can work on up to three devices. Gain access to the classic adventures of Bloodshot, Eternal Warrior, Harbinger, X-O Manowar, Ninjak, Archer & Armstrong, Shadowman, and many more! The USB is Windows, Mac, IOS, and Android compatible.
The Valiant Classic Digital Comic Book Collection releases on September 1st, but pre-orders are being taken now on the GIT Corp. website.

About GIT Corp.
In 2003, GIT Digital pioneered the digital revolution in the comic book industry with the line of Complete Comic Book Collection DVD-ROMs featuring the heroes of the Marvel Comics Universe.
Long before the iPad (2010) created a demand for digital media, GIT's Complete Collections offered fans and collectors as many as 600-plus complete issues of these more than forty-year-old heroes on a single DVD-ROM! Their line of bestselling collections included such iconic Marvel titles as The Amazing Spider-Man, X-Men, Fantastic Four, Captain America, The Incredible Hulk, The Avengers, and Iron Man, as well as Star Trek comics, The National Lampoon, MAD Magazine, Archie Comics, and more. The Complete Comic Book Collections were carried by comic retailers nationwide and by major retail outlets in the US and Canada, including Amazon, Apple Stores, Best Buy, Costco, Fry's Electronics, Office Depot, Office Max, Sam's Club, Staples, Walmart, and many others.

GIT's Complete Comic Book Collection DVD-ROMs have themselves become collectibles, with some titles selling on the collector's market for as much as triple their original price. Now GIT returns with its newest digital collection: Valiant: The Complete Digital Comic Book Collection, containing every comic book published by Valiant Entertainment between May 2012 and December 2018…591 complete digital issues on a single USB flash drive, Windows, Mac, IOS, and Android compatible, and viewable on all your favorite devices.
About Valiant Entertainment
Valiant Entertainment, a subsidiary of DMG Entertainment, founded by Dan Mintz, is a leading character-based entertainment company that owns and controls the third most extensive library of superheroes behind Marvel and DC. With more than 80 million issues sold and a library of over 2,000 characters, including X-O Manowar, Bloodshot, Harbinger, Shadowman, Archer & Armstrong, and many more, Valiant is one of the most successful publishers in the history of the comic book medium. For more information, visit Valiant on Facebook, Twitter, Instagram, and ValiantEntertainment.com. For Valiant merchandise and more, visit ValiantStore.com.