Action Lab Entertainment's Baltimore Comic-Con 2019 Exclusives and Ringo Awards!
Action Lab Entertainment will be at Baltimore Comic-Con booth 2107. Several titles that have been nominated for Ringo Awards will be at the show, including ABERRANT, JUPITER JET and THE GHOST, THE OWL! They'll also have several Baltimore Comic-Con exclusive variants (seen below), along with other offerings for both all-age fans and mature readers.
Numerous Action Lab creators will be at Baltimore Comic-Con. See Bryan Seaton (Miraculous, DollFace), Rylend Grant (Aberrant, Banjax), David Pepose (Spencer & Locke, Going to the Chapel), Katie Cook (Gronk), Cullen Bunn (Subspecies), Vito Delsante (Stray, Action Lab: Dog of Wonder), Jamal Igle (Molly Danger, Venture), Sean Izaakse (Actionverse Featuring Stray), Nate Lovett (Actionverse), Bill McKay (Danger Doll Universe Cover Artist) and Sorah Suhng (Raven the Pirate Princess Cover Artist, Zombie Tramp Cover Artist).
Rylend Grant, who's been nominated for best writer (Aberrant, Banjax) and best single issue (Aberrant #4) by the Ringo Awards, will be hosting the panel "Publishing Your First Comic". He'll be joined by David Pepose and several other amazing panelists to talk about how they developed their comic book ideas and found publishing success! That will be on Sunday from 1:30-2:30 in Room 343-344.
So stop by Action Lab booth 2107 on October 18, 19 & 20, 2019 at Baltimore Comic-Con!
http://thegraphiccompany.com/m/embed/KiJO-PIXUpw Action Lab's Baltimore Comic-Con Exclusives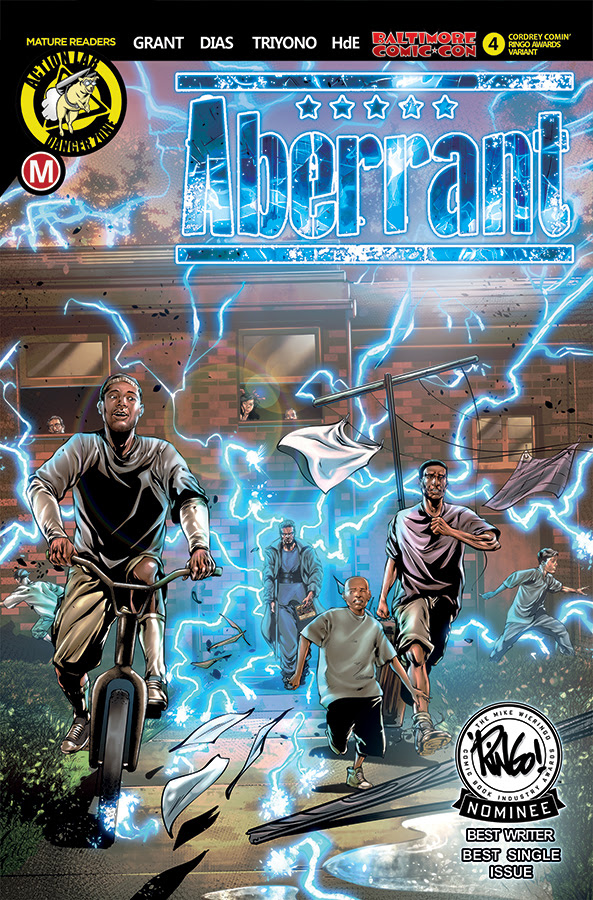 CHAPTER 4: I BELIEVE I CAN FLY. Global political hell breaks loose when Russia's Bond villain of a President cavalierly announces that he is pressing into service the world's first aberrant military unit. In a desperate attempt to restore order, Article 13's mole inside NORCO makes a truly audacious move. Featuring the music of R&B superstar R. Kelly.
CHAPTER 1: THE CURE. A wholly original and delightfully twisted deconstruction of the superhero genre by Hollywood screenwriter/Aberrant-scribe Rylend Grant. Liard Mason, a disgraced former superhero, is diagnosed with terminal cancer, brought on by years of using his powers. Defending what he has deemed an ungrateful and ultimately unworthy city is literally killing him. With just months to live and a legacy hanging in the balance, Mason launches a violent and misguided Death Wish-like campaign to purge the city of supervillains before he dies.
As she battles forces from all sides looking to claim, kidnap or kill her, Angel Lynch discovers that the key to her salvation is buried deep in her own past and psyche—as the events that led to her ending up in Russia reveal the path to salvation! The "Sex Clubs and Rock and Roll" story arc ends here!