ACTION LAB ENTERTAINMENT COMICS IN STORES THIS WEEK New Releases for the week of June 12th, 2019
Andrea and Antonia are hitting the road! They've been locked up in one place for too long and Adrienne has inspired them. It's time for them to get out there and really use their magic to do some good. There's only one problem – they're still incredibly competitive and more than a little irresponsible with their magic. But unleashing two princesses full of magic and determination to outdo each other couldn't possibly go wrong…could it?
What people are saying about Princeless:
"…an inspirational story about strength and determination."
(Sirens of Sequentials)
"The world this is set in is interesting, and as always, I like the idea of princesses who aren't patient with waiting around and who are willing to act." (Major Spoilers)
"Princeless: Pirate Princess is a fresh, exciting, and delightful all-ages adventure comic that evokes classic adventures like Avatar: The Last Airbender and Powerpuff Girls." (A Place to Hang Your Cape)
Seafoam follows the adventures of Madison, a spunky 9-year-old girl who is granted passage to a beach full of mystical and nautical themed creatures after helping a beached narwhal. There she befriends a stand-offish boy she calls Blue, who has a few secrets of his own. During this adventure Madison accidentally releases a devious Djinn named Matir from a bottle lost at sea. Together, her and Blue must outwit him while making sure he can't twist their words!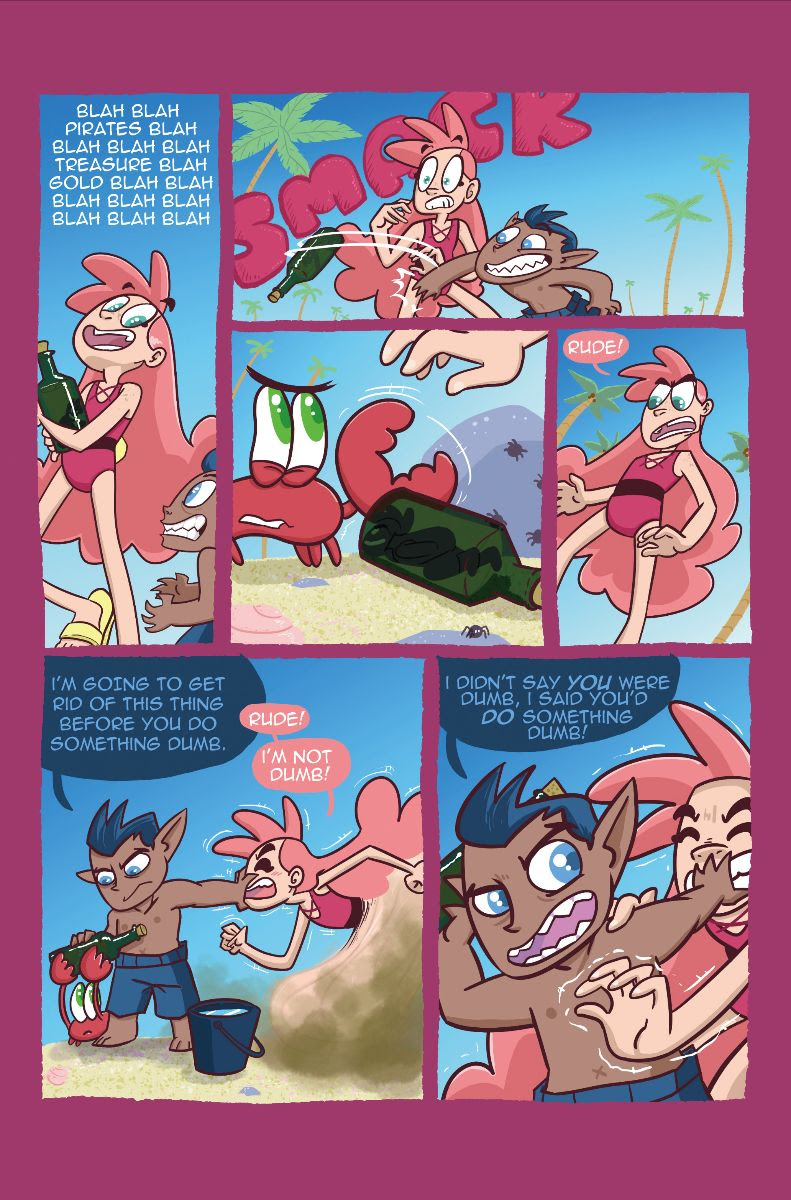 It's time for a duel! Griffin has stepped out of his bubble to challenge the Cosmic Comic shop's unbeatable mage-knight to a game of swords. But while Griffin struggles to outplay the master of "Swordscape" for a most coveted prize, Maggie flounders in a sea of unfamiliar faces. With the duo effectively separated and the mysterious Marlon hovering close by, have the two been set up for public embarrassment? Or can they both roll a natural twenty and punch their way out of this?
What people are saying about Sweetie:
"Subtle nods to classic superheroes and pop culture will appeal to fellow comics fanatics, and readers will root for this seemingly disarming superhero whose power is her deep dedication to her fandom." (Publishers Weekly)
"Sweetie balances the thrill of an action hero story with a slice of life that both readers young and old will enjoy." (School Library Journal)
"Action stories are not always my favorite, but when some amazing people take a crack at it, it is sure to be a success! The art, the story, and the characters all aligned to create an thrilling new comic, and I look forward to seeing what's next for Maggie and her friends!"
(Pullbox Reviews)
Comics creator Fred Chao put together a small collection of humorous short stories from his love life. Starting off as comical reflections of elementary school crushes, house party hook-ups, and first relationships, these stories delve into themes of the responsibilities that come with age, inevitable life changes, nostalgia, and home.
New York Times contributing reviewer Douglas Wolk said of this book, "These stories about the places art and life intersect, and where they fly past each other, are honed down to details so sharp they pierce."
"Each of Fred Chao's stories are detailed without being busy, and concise while still being comprehensive. This Love So Brief showcases two of his three of his greatest talents: his gorgeous artwork and his beautiful storytelling. His third great talent, a stellar Busta Rhymes impersonation, must be experienced in person." (Opus Moreschi, head writer for The Late Show with Stephen Colbert and The Colbert Report)
"These stories about the places where art and life intersect, and the places where they fly past each other, are honed down to details so sharp they pierce." (Douglas Walk, author of Reading Comics and reviewers forThe New York Times and The Believer)
"Chao shares a few tales that will both engage and delight readers." (Comics Grinder)