ACTION LAB: DANGER ZONE COMICS IN STORES THIS WEEK New Releases for the week of September 11, 2019
CHAPTER 4: ONE BOLD MOVE. The first story arc of Hollywood screenwriter/Aberrant-scribe Rylend Grant's delightfully twisted deconstruction of the superhero genre comes to a rousing crescendo. Despite losing everything he holds dear in the wake of Mason's assault on the Gyrotech HQ, Raines still refuses to step up to his former mentor… so, a well-meaning Amanda does something truly demonic to force his hand.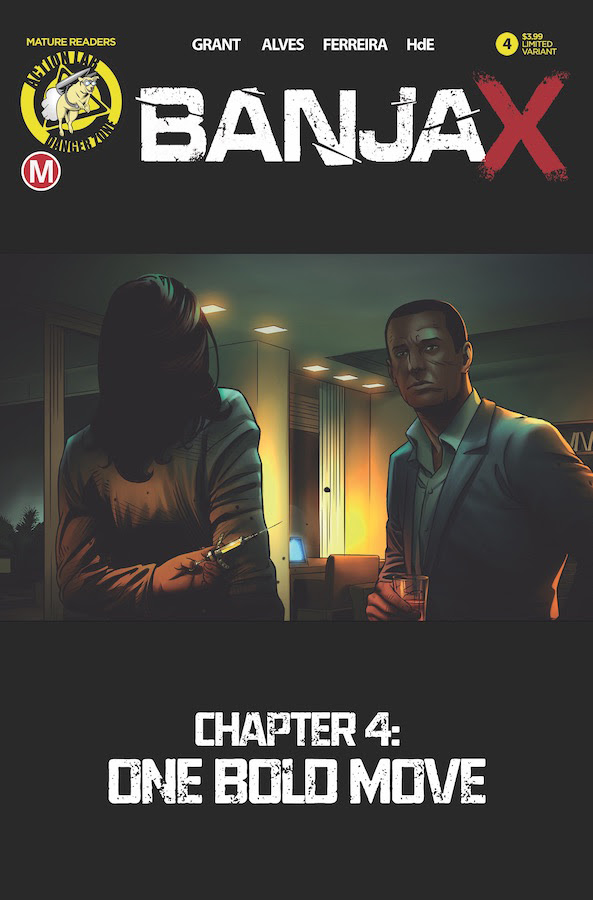 What people are saying about Banjax:
"BANJAX further cements itself as a must-read series." (The Brazen Bull)
"Issue three returns to the ultra-violent format with small heart-wrenching moments that made issue one a smashing standout." (You Don't Know Comics)
"Grant, Alves and Ferreira have created a deeply intriguing series, one that's well worth adding to your pull list if you're interested in a unique take on a hero's end of days, and the train wreck he's causing as he goes out in a blaze of glory."
(Graphic Policy)
Chainsaw Reindeer is the story of one of Santa's reindeer who…snaps. Sick of Santa's abuse, the Reindeer grabs a chainsaw and the slaughter begins.  Unsatisfied with simply laying waste the North Pole, the Reindeer brings his un-meticulous massacring to the four corners of the Earth, killing every human (and animal) in his path.  Can anyone stop the Chainsaw Reindeer? 
No.
The complete sequel to the Ringo Award Nominated series!  Following his arrest and "relocation" to Rikers Island, Marcus Greenberg is presented with an offer he can't refuse – revenge, freedom, and a little bit of cash.  His former partner Russell Small has restarted The Guardians, recruiting a new team of heroes in attempt to actually do some good in this world.  Unfortunately for them, it's a world that doesn't want their brand of "good".  Weaponizing the United Nations, Marcus kicks off a super-powered arms race that results in Tiburon and Athena escalating World War III.  Collecting The Consultan: Quid Pro Quo #1-4; written by Jason Sterr & Ben Williams, art by Dainel Mainé, and a cover by Simon Fraser.
What people are saying about The Consultant:
"The comic is entertaining and exactly what I was hoping for, so this is one where I'm coming back for more…" (Graphic Policy)
"It's a great premise and the way we are introduced to this is utterly fantastic!"
(Reading with a Flight Ring)